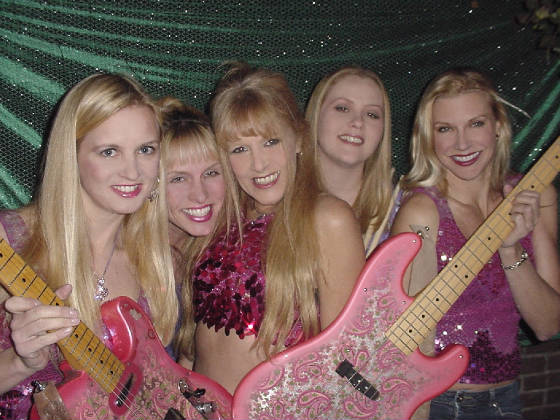 The California Girls possess a unique blend of Beach Boy like harmonies and guitar riffs that even impressed legendary surf performer Dick Dale. Combined with good looks, long legs, blonde hair and a whole lot of talent, it's no wonder that they are the first pick to open for the Beach Boys when on tour. During their first two performances with the Girls, the Beach Boys started their set with one of their songs, "California Girls", and later having the Girls up to sing with them on stage, and calling them the "California Girls". The idea hit home, and they adopted the name from that point on.
The Girls have also opened for the Surfaris, Steppenwolf, The Drifters, The Platters, Red Bone, Donny Brooks and host of other hit acts.
They have experienced a whirl-wind of traveling, performing and recording. The last two years alone have kept them busy doing USO shows throughout the world, playing for thousands of GIs. The tours have covered Iraq, Afghanistan, Bosnia, Macedonia, Germany, Norway, Hungary, Greenland, Iceland, Singapore, Diego Garcia, China, Korea, Japan, and most recently the Pacific Rim, including Johnston Atoll, Hawaii, Kwajalein, Japan, Okinawa and Micronesia. In 2000 they were asked to perform at an event by the hit TV show "Bay Watch" during which they wrote a new song - "Bay Watch Girl".
They also play for many corporate events as well as in show rooms at The Venetian, The Hondah, The Orleans, Buffalo Bills, Peppermill, Fandangos, Prima Donna, Nevada Landing, Avi, FanThe Riveria and the Trump Plaza. They are the perfect party band, delivering tons of memory rattling oldies that help cross the generation gap, so that listeners and dancers of all groups are entertained.
The Girls are a collection of sweet, very attractive, American "girl next door" types. Their professional attitude, talent, love of good music and flair for entertainment has made them a popular act resulting in being asked for return engagements time and again.
Barbara Leoni
Guitar and Vocals

Barbara has played guitar for most of her life. She has been playing professionally since she graduated with honors from GIT (Guitar Institute of Technology) in Hollywood.

She exhibits a wide variety of styles and enjoys adding her own edgy sound to the surf classics of the California Girl's, which is comparable to the cutting edge sounds that came from the guitars in the "surf music' of the early 60's.
Sandy Walker
Bass Guitar and Vocals

Sandy was raised in Hawaii, and writes music inspired by Island life and the surf community. She 's a University of Hawaii alumni, and also continued her education in California at F.I.D.M.

Currently she studies voice at R.E. studios along with guitar and music. Sandy has acquired extensive experience with her previous band recording and touring the United States and Europe.
Max Miller

Drums and Vocals

Known for her style, precision and dexterity....she hits maximum overdrive with the international touring act The California Girls. She "looks like a Barbie...but sounds like Ken..."

When she is not playing her drums for many outstanding bands in the Southern Califonria area, Max is always taking her music career to other levels by recording and appearing in original projects.
Michelle Olsen

Keyboards and Vocals

Singer and keyboardist, Michelle, has been a member of the all girl band for 10 years. In addition to being a California Girl she is also a back-up singer for the American pop diva Mercy and the Merkettes, a one of her tantalizing Merkettes.

Michelle received her Bachelor of Arts in music from California State University, graduating cum laude

When she is not hard at work engaging in her musical endeavors, she is hard at play hiking a mountain, skiing the slopes or enjoying a delicious beverage with her friends.
Kathryn Grimm
Lead Guitar/ Bass and Vocals

An outstanding guitar player and singer, Kathryn bring a true sense of devotion to performance and contributes a great deal to the California Girl's projects. When she is not recording, touring, or playing with her many bands, Kathryn is found writing and teaching music. Kathryn has just released a new CD titled "GRIMM AGAIN." On this album, she has gone back to her roots recording a ten-song collection of Electric Blues songs. Kathryn performs extensively both SOLO and with her band KGB (a.k.a., "THE KATHRYN GRIMM BAND)." Aside from performing and recording, Kathryn is also a published songwriter, an in-demand vocal and guitar instructor running her own teaching business in Hollywood, a freelance live and session vocalist/guitarist as well as an engineer/producer for hire.
Judy Shock

Sax and Vocals

A native Californian, Judy's career started in Musical Theater, where she is still seen from time to time. She picked up her first flute at the tender age of ten. She enjoyed the pretty flute, but it just wasn't "rock star" enough for her.

Being an entertainer has taken her to many exciting places. The coldest being Minneapolis, Minnesota. It didn't take long for this California Girl to trade in her snow suits for swim suits and come back home!

If she's not on stage, Judy can be found hiking, ballroom dancing or simply lounging on the beach watching surfers and dolphins.
A true California girl. born and raised in sunny southern California, she grew up spending her summers sunning and surfing on the shores of Laguna, San Onofre and Newport Beach, all the way up to Malibu and Zuma.

She sang all through childhood winning awards for her performing and began recording as a lead vocalist at the age of 13.... spent time singing professionally in various different bands with styles ranging from rock, pop and R&B, to alternative drum and bass.

She loves being a California Girl! When she's not singing or acting, you're likely to find her sailboat racing, kayaking, skiing, hiking, and horseback riding, or taking off to some exotic location.

Lisa Haze - personal website