The Saddlebags are a fun-loving, all-girl, ultra-talented group of musicians who demand the best entertainment-quality for their audiences. The Band consist of members; Sandy Walker on Bass and Lead Vocals, Kathryn Grimm on Guitar and Lead Vocals, Annie Bertucci on Drums and Lead Vocals, and Barbara Leoni, on Guitar and Lead Vocals, The girls have written and performed their original songs to crowds of adoring friends and fans, while paying close attention to vocal harmonies, outrageous leads, and hysterical stories. The Saddlebags have expanded their show to include a keyboard player, pedal steel player, or fiddle. The additional players are worked into a concert show as well as a touring show which can accommodate a large stage The girls are exciting, energetic, and a clever opening act for any Country and Western The Saddlebags sport a dynamic quartette slaying the listeners with outstanding performances by all members!
Performing all over the world in numerous positions, the basis of the group stems from The California Girls who remain touring as well as concert shows, events, and special corporate functions. The members of The Saddlebags are excellent players, pleasing visually, and command the stage and room with a love for music and their country roots. But do not underestimate these girls.
The girls are also able to change the music from soft to rocking, from old to new, from standard to oldies which keeps the crowds coming back and the fans happy!
Singing country hits from the early 40's and 50's, to the current 2011 Country Rock Artists, The Saddlebags combine the old with the current tunes of the Southern Rockers while keeping their talents sharpened by accommodating requests in other musical genres. The best part about the band is the various choices in songs so as to keep each patron contented and wanting more. The Saddlebags have a long song list that includes originals and many other genres of music so if needed, the party can transform into a multiple style show where all attending walks away with something they loved to hear! . Enjoy the talent and fun The Saddlebags can bring to your event or party!
For any information, please send an e-mail to: TheSaddlebags@yahoo.com and we will send or refer you to anything you may need to make your party, club, event, or concert a total success!
KATHRYN GRIMM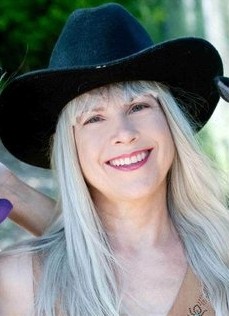 GUITAR - LEAD VOCALS
KATHRYN GRIMM - Guitar - Lead Vocals
An outstanding guitar player and singer, Kathryn bring a true sense of devotion to performance and contributes a great deal to the California Girl's projects. When she is not recording, touring, or playing with her many bands, Kathryn is found writing and teaching music.
Kathryn has just released a new CD titled "
GRIMM AGAIN
." On this album, she has gone back to her roots recording a ten-song collection of Electric Blues songs. Kathryn performs extensively both SOLO and with her band
KGB
(a.k.a., "THE KATHRYN GRIMM BAND)." Aside from performing and recording, Kathryn is also a published songwriter, an in-demand vocal and guitar instructor running her own teaching business in Hollywood, a freelance live and session vocalist/guitarist as well as an engineer/producer for hire.
Kathryn is one amazing addition to the Saddlebags. Along with her writing skills, and unique lyrics, she has exhibited a strong sense of country music delivered to the waiting crowds with sincerity, and passion.
SANDY WALKER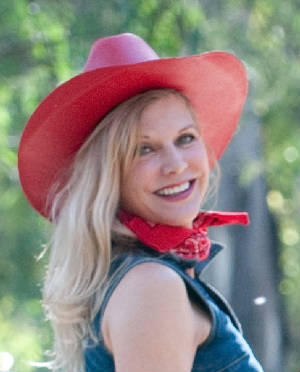 BASS - LEAD VOCALS
SANDY WALKER- Bass Guitar - Lead Vocals
Sandy was raised in Hawaii, and writes music inspired by Island life and the surf community. She 's a University of Hawaii alumni, and also continued her education in California at F.I.D.M.
Currently she studies voice at R.E. studios along with guitar and music. Sandy has acquired extensive experience with her previous band recording and touring the United States and Europe.
Sandy brings the dynamic bottom end and fun factor to The Saddlebags. Her vocals and Bass abilities help in the excellent production of this group. She is the "Bags" sweetest and most fun player. You will love to see her in action, and fall in love with her in a moment!
ANNIE BERTUCCI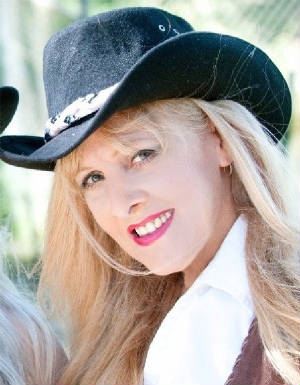 DRUMS - KEYBOARDS - LEAD VOCALS
ANNIE BERTUCCI- Drums - Keyboards - Lead Vocals
Annie is a recording artist with 3 albums released to worldwide audiences on assorted labels including RCA LTD- (Australia),TELEFUNKEN- (Germany/Eastern Europe), Carrare (France), PONY Canyon, LTD ,(Japan/Korea), Annie won the Grand Prize at the YAMAHA World Popular Song Festival at the Budokahn in Tokyo, on behalf of the USA, and toured with "The Baby's" as their Featured vocalist for 2 years opening for Alice Cooper, Journey, Styx, Cheap Trick, AC/DC, Eddie Money, Ted Nugent, and other assorted major touring shows in the largest Venues in the USA and CANADA. Her dynamic presence and command of the stage will blow you away. You'll be left wondering how so much VOICE comes out of a little petite blonde like that.
Annie will certainly astound you with her vocals, Drums, and keyboard addition and just her HIGH ENERGY Personality that makes her a truly TREMEDOUS ENTERTAINER. Enjoy this VOCALIST EXTRAORDINAIRE in live performances all over the world!
Annie's Personal Website:
www.AnnieBertucci.com
BARBARA LEONI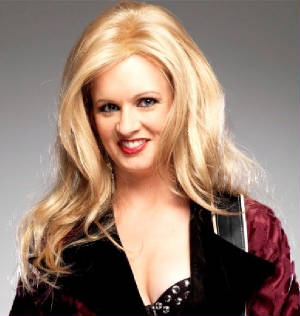 GUITAR - LEAD VOCALS
BARBARA LEONI - Guitar - Lead Vocals
Barbara has played guitar for most of her life. She has been playing professionally since she graduated with honors from GIT (Guitar Institute of Technology) in Hollywood.
Barbara has performed throughout the world in major Shows, as well as tours and international military performances creating a diverse amount of experience in musical performance.
Her country chops are off the scale, and her addition to The Saddlebags helps being the original material to life with an exclamation point on lead guitar.
You may visit her musical website by clicking here: